Hey All,
At the time, when I moved into my new home I was really excited but at the same time, a lot of other things were going on that slightly overshadowed my excitement. This also, prevented me from really enjoying the process of moving and owning my very own home. Don't get me wrong though, I look back sometimes and think, I actually own my own home... And I'm so grateful for that! I have so many plans for my home interior decorating wise and the whole she-bang! lol. I just can't wait till I'm in a better position to fully complete my plan to make my home as comfy as a home should be! But for now, I have made a start and I very much look forward to the completed outcome. I've been looking at inspirations for decorating two of the bedrooms in my home. I have started my research and have a couple of ideas in mind although, there are so much you could do in terms of decorating. I'm just looking for that balance as I usually get bored easily. I may have already mentioned I love getting inspiration from one of my favourite website called Houzz. I have browsed through the website and gathered a few Ideas that I may use as my Inspo, so here they are, I thought I'd share with you all let me know your thoughts!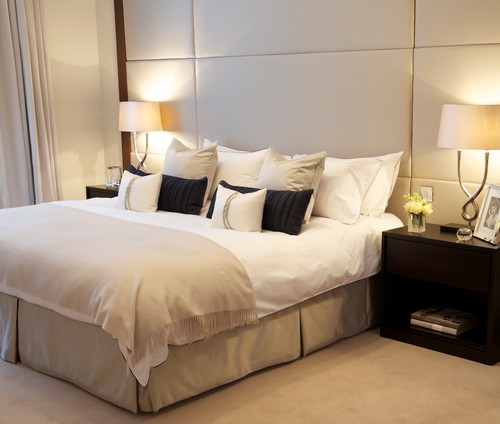 My style is very much modern and contemporary. I just love the modern feel to a home although, I don't mind adding a bit or a splash of traditional detail or an home accessory into the mix depending on the look I decide to go for.
The above pictures are currently what I have my eye on at the moment from the style of the bed board and style of the room, whether to add spot lights to the room etc.. to the colour of the paint on the wall. All I know is that I'm so excited to getting things started and working on my little project as I would call it... ha! In making my home as homely, comfortable and a place I can indeed call home sweet home! Once I get things going and get the ball rolling I will try and keep you up to date with the progress and share some more ideas with you, letting you know of any tips that I pick up along the way.
Thanks for Reading!
Laters people x
Ciao,